JULY 2015
We are pleased to announce the appointment of M2M Connectivity as Cradlepoint's Value Added
Distributor for their broad range of award-winning 4G LTE wireless routers for distributed enterprise
in Australia. Cradlepoint's resilient networking solutions for M2M and IoT applications, in business,
retail, hospitality, and transportation are used globally. Our partnership will enable system integrators
to develop and deliver solutions which are specifically tailored for these verticals in Australia.
M2M Connectivity is growing and we introduce new team members who will be helping to deliver
support and service excellence. Dilshad Singh joins our engineering team providing high-level technical
support to our customers. We also welcome Mathieu Pigeot, who is the first point of call for sales and
enquiries.
If you would like further information on any item in this newsletter please contact us. Click here to
request more information.
Darren Moroney – General Manager, M2M Connectivity
______________________________________________________________________________
PRODUCT NEWS
LTE: Award-Winning Cradlepoint Routers
Cradlepoint's high-performance routers are designed for deployment in mission-critical applications
that require 24×7 connectivity. Cradlepoint solutions are ideal for distributed operations and emerging
industries that require remote connectivity and strong interoperability with existing systems.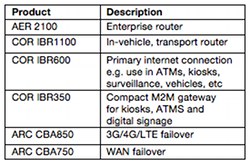 The Enterprise Cloud Manager from Cradlepoint enables rapid deployment and dynamic
management of networks and provides proactive alerts and reporting to enable better management
of devices across an organization.
______________________________________________________________________________
NEW: Battery Backup & Emergency Voice for SkyWave IDP782
The SkyWave IDP 782 provides advanced fleet management
capabilities.  This integrated, dual-mode communications terminal,
delivering reliable connectivity to assets moving in and out
of cellular range now has backup battery and emergency voice.
The optional IDP-782 backup battery ensures the terminal will
continue reporting over satellite or cellular networks when the
main power source is interrupted or compromised (anywhere
from 1 – 2 hours to several days depending on conditions).
For security, this means programming the terminal to automatically
send more frequent position reports to improve driver safety, minimize vehicle theft and enable recovery.
The IDP-782 now supports a two-way emergency voice call (to one of two preprogrammed phone
numbers) using an external input such as a panic button. This requires the integration of a
microphone and a speaker to the terminal. For security applications and hijacking situations,
the IDP-782 allows silent calls, where dispatch is able to hear inside the vehicle's cabin.
See More…
______________________________________________________________________________
IoT: Libelium Smart Water with ION Monitoring
Libelium has added Ion monitoring to the Smart Water sensor
platform.
The Waspmote Smart Water platform is an ultra low-power
sensor node designed for use in rugged environments and
deployment in Smart Cities in hard-to-access locations to detect
changes and potential risk to public health in real time. The addition
of ion selective sensor probes increases sensitivity and accuracy in
water quality monitoring.
The new Ions are:
Fluoride (F-), Calcium (Ca2+), Nitrate (NO3-), Chloride (Cl-),Lead (Pb2+),
Iodide (I-), Cupric (Cu2+) Bromide (Br-), Silver (Ag+), Fluoroborate (BF4-)
________________________________________________________________________
Maxtena GPS L1 Passive M1575HCT- 22P
The M1575HCT-22P antennas are rugged high performance
passive GPS antennas, the MR version with an inset base, and
the SMA version with a flush base. Both options are a screw-on
design, featuring an integrated SMA connector. The ultra light design
is rated IP-67 when both mounted and unmounted for added protection.
These antennas are designed for applications requiring high quality
reception of GPS signals.
The M1575HCT is ideal for the following applications: UAV, Drone,
UAS / Military & Security /Asset Tracking / Law Enforcement & Public Safety / Navigation Devices /
Oil & Gas /Mining Equipment /Handheld Devices.
______________________________________________________________________________
NEW: Sendum PT300D Accessories
New Accessories Pack (AP) and Temperature Probe TP300 from Sendum
are available for the Package Tracker PT300D.
The Sendum PT300D is a multi-sensor package tracker that provides
shippers with real time visibility to the in-transit conditions of their package
in a multimodal supply chain. The device monitors temperature, humidity,
light (ambient & infrared), and tilt. Featuring customisable triggers and
alarms that can be preset before shipment or changed while in transit,
the PT300D enables customers to take action before the goods are damaged
or permanently lost.  See more…
The Sendum AP comes with additional sensors for motion, shock, orientation, GPS jamming detection, temperature,
relative humidity, barometric pressure, and light. The Accessory Pack allows  for a separate power source to be used,
providing greater deployment flexibility. See more…
The TP300 is designed to monitor air and liquid temperatures. A fast response thermistor element is i
ntegrated into the fully potted, metal-housed probe tip.  See More…
______________________________________________________________________________
Tech Tip
How to check the current network band in Sierra Wireless HL6528x and HL8548x modules.
+KBND Command: Current Networks Band Indicator
Test Command
Syntax
AT+KBND=?
Response
+KBND: (list of supported <bnd>s)
OK
Read Command
Syntax
AT+KBND?
Response
+KBND:<bnd>
OK
This command returns the GSM or UMTS band that the module currently uses.
Note: AT+WMBS is used in the case of the following Sierra wireless modules used for the same purpose-
Q2686, Q2687, Q2698, SL6087, SL8080T, SL8082T, SL8084T, AR6220, WP6200.