M2M & IoT News for Sept/Oct 2018
The LPWAN market continues to grow and M2M Connectivity are proud to announce two new partnerships that keep us at the forefront of IoT/M2M developments. We have partnered with AssetLink to sell and support the AssetPack (AP3) Iridium solar powered satellite IoT terminal in Australia and New Zealand.
M2M Connectivity are the distributor and will work closely with Pivotel to deliver off-the-shelf solutions. making the system easy to use with minimal set-up. Customers with their own data connectivity and platforms can buy from M2M Connectivity directly to enhance their own services. Find out more by viewing our press release.
We are also pleased to announce our partnership with Luxembourg based EVVOS, a developer of highly customisable IoT hardware with products designed to allow connection of almost any sensor. We see this flexibility being of huge importance to building solutions to suit customer needs.
We are building a strong team of Design Services specialists to help our customers who need support for system design, integration and software development –contact us today to find out more.
Darren Moroney, General Manager, M2M Connectivity
---
AssetLink AP3 (Iridium Satellite + GPS + IoT Sensor Gateway)
The AssetLink AssetPack-3 (AP3) global satellite IoT gateway provides both a versatile, two-way asset tracking modem with GPS, and a sensor monitoring solution especially designed for remote unpowered assets, all with solar powered operation.
The AP3 is a completely enclosed, waterproof, dustproof, fully-ruggedised solution. It leverages the global coverage of the Iridium satellite network to enable pinpoint monitoring of any fixed or mobile asset anywhere in the world.
Read More or Contact us for more information on this product.
---
The CR4250 router now includes the NetCloud Management System as standard – ask us about NetCloud Solution Packages for Branch Networks today.
The Cradlepoint CR4250 Branch Performance Router is designed for mid-sized branch offices and businesses requiring reliable and secure performance and connectivity.
It offers flexible WAN connectivity at the edge, and contains a high-performance processor, available 8-port PoE, and dual SFP+ ports.
---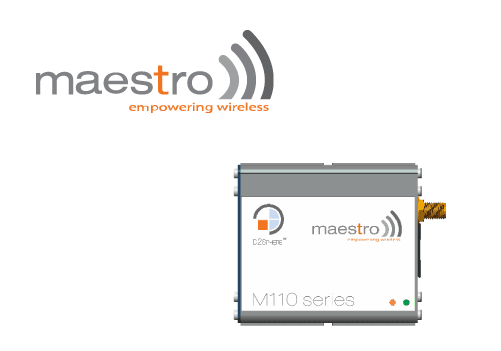 Maestro M110 modems are designed to provide connectivity across a broad range of M2M and IoT applications. They allow Internet connectivity via serial port to PLCs, Meters, and Vending Machines.
The M110 series enable data transport from any industrial device to data control servers. This allows businesses to benefit from real-time data monitoring, management
and control.
Key Features:
RCM Approved
Available in 3G, NB-IoT, LTE-M1, LTE Cat-1
Read more or Contact us for more information on this product.
---
Kerlink Wirnet iBTS Compact 923 MHz
The Wirnet iBTS Compact version is the perfect match for operators and enterprises looking for a turnkey solution, offering a light and compact form factor.
It simplifies installation with its built-in mono or dual-WAN backhaul and integrated antennas for GPS receiver and 2G/3G/4G cellular modem.
This LoRaWAN gateway is fully compatible with LoRa® native sensors geolocation and can be remotely monitored and managed.
Read more or Contact us for more information on this product.


Copyright © 2018 M2M Connectivity, All rights reserved.
M2M Connectivity Pty Ltd
1 Barrett Street, Kensington, VIC 3031, AUSTRALIA
www.m2mconnectivity.com.au | sales@m2mconnectivity.com.au
Want to change how you receive these emails?
You can update your preferences or unsubscribe from this list
Please follow and like us: