M2M & IoT News for July/August 2018
Hi,
M2M Connectivity are proud to announce this month that our staff were selected by Libelium to take part in their exclusive Authorised Technical Services Certification program. Now that M2M Connectivity have successfully completed the course, we are the first Libelium-Certified Technical Service Providers in Australia.
We have a dedicated team of Design Services specialists to help with your system design, and engineers to work with you on integration and software development – contact us today to find out more.
Darren Moroney, General Manager, M2M Connectivity
---

Globalstar STINGR Module
The STINGR
is a low cost, OEM simplex module which sends one-way data messages via the Globalstar Simplex Network.
The module includes a high-performance GPS receiver as well as an on-board dual band antenna, which greatly simplifies the effort of integrating satellite communications into a tracking or monitoring device.
Applications:
LPG tanks
Water tanks
Pipelines
Electricity
Read more
or
Contact us
 for more information on this product.
---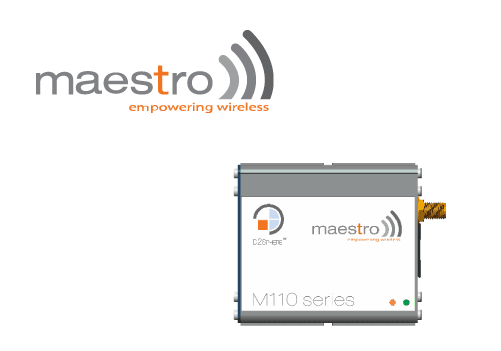 Maestro Wireless M113 Modems assist with the transport of data from your industrial devices to data control servers.
This allows businesses to benefit from real-time data monitoring, management and control.
It is available in NB-IoT and LTE Cat-M1, allowing devices that operate on carrier networks to be less expensive and more power efficient.
Applications:
Metering
SCADA
Monitoring & Control
Read More or Contact us for more information on this product.
---
Maxtena MEA-1621 Passive Antenna
The MEA-1621 is an Iridium-Certified external antenna optimised for the Iridium Network. The antenna provides high efficiency, exceptional pattern control and polarisation purity, with easy mounting and a rugged casing.
Applications:
Vehicle/Fleet & Asset Tracking
Military & Security
Mining
Read more or Contact us for more information on this product.
---
Digital Matter Sensordata Sigfox Data Logger
The SensorData Logger from Digital Matter is a battery powered-data communicator that interfaces to a range of sensors, GPS, inputs and outputs, and uploads data via the Sigfox network. It is RC4 (Au/NZ) compliant.
Applications:
Agriculture
Remote sensor monitoring
Read More or Contact us for more information on this product.
---
We are pleased to announce that James Nicholas has joined M2M Connectivity as our new Sales Director.
James comes to us from Fujitsu Australia and brings with him a stellar track record in sales, channel and people management in IT.
Welcome James!
---
Another fantastic addition to our team, John Burgin comes to us from Cognizant, where he has spent the last 9 years establishing himself as a expert in business strategy and growth.
John is joining as our Director of Services.
Welcome John!


Copyright © 2018 M2M Connectivity, All rights reserved.
M2M Connectivity Pty Ltd
1 Barrett Street, Kensington, VIC 3031, AUSTRALIA
www.m2mconnectivity.com.au | info@m2mconnectivity.com.au
Want to change how you receive these emails?
You can update your preferences or unsubscribe from this list